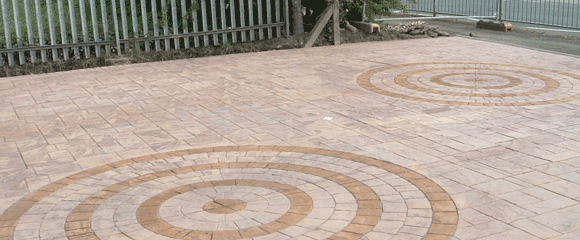 Our Acid Etching technique transforms the appearance of existing concrete paving. The technique can be applied to new or existing concrete that meets specific criteria.

Acid Etching Features
Typical Applications
• Permanent aged appearance
• Colour will not chip or wear
• Wide range of natural colours
• Transforms existing surfaces
• Provides a sealed surface for easy maintenance
• Unlimited Design Possibilities
• Hotel Lobbies, Pools areas, and driveways
• Nightclubs
• Retail Shopping Centres
• Restaurants
• Museums
• All Internal & External Paving
• Theme Parks

Acid Etching combines metallic salts in a mildly acidic water based solution that when applied to concrete reacts with the free-lime in the cement to colour-etch the paving. The result is an etching of the paved surface to create a variegated finish producing a mottled and unique effect.
Please contact Neil at Heritage Driveways for further details on the Acid Etching technique.